Oprah and Letterman Made Up: Broadway wins with The Color Purple; Letterman Beats Leno in Ratings
Mood:
celebratory
Topic: OprahBookClubFan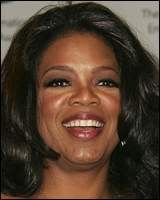 Once again, Oprah's magic brought a golden audience to the David Letterman show the other night. For a long time, David Letterman has been joking about a 'so-called' feud between him and Oprah. He finally got his wish when Oprah agreed to appear on his show. It was quite a coincidence that the night she appeared on the show, Oprah Presents The Color Purple, a musical, was scheduled to open on Broadway. Well, as you might guess, it was a win-win situation for everybody involved. Oprah had asked the producer of the musical how she could help him. That's one way that Oprah can capitalize on her popularity and leadership to get people to do things.
Was there truly a feud between the two entertainment giants?
Oprah used to appear on the Letterman show when he was at NBC. She had accepted his invitation since his move to CBS. According to various industry insiders, Oprah was afraid of being the butt of David Letterman's jokes. No wonder that Oprah chided the idea of feud between her and David. Appearing on the David Letterman show, everybody was happy. Oprah and David Letterman were laughing. He won hugely in the ratings. At the same time, Oprah was pushing her own agenda for The Color Purple.
After being made into a movie, Alice Walker's book, The Color Purple, is now a musical. Oprah, appearing on NBC's Today Show with Katie Couric and Matt Lauer, that the book had changed her life. She wanted everybody to have a copy. She bought copies of the book which she distributed to anybody she came in contact with. It makes sense that even Alice Walker realized how important Oprah is for the success of the musical. She enlisted Oprah's confidante and best friend, Gayle King, editor of O, the magazine, to relay to Oprah the need to help out. At her own time, Oprah reached out to the director who was shocked by her offer to help boost attendance. With Oprah on your side, anything is possible.
Visit PromdressesRock to browse dresses and gemstones


Posted by Fashionista Shopping Analyst at 12:01 AM PST
Updated: Saturday, 3 December 2005 10:42 PM PST