Latin Grammy Winners and Losers: 2005-2006 Hot Dresses and Fashion Trends
Topic: OurSpaceMusic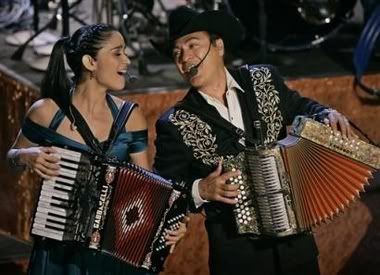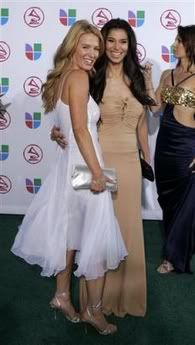 "The Latin Grammys have returned home," said Mexican actor Eduardo Santamarina who was co-hosting the ceremony with Mexican TV personality Rebecca de Alba at the Shrine Auditorium. That is, the 6th Annual Latin Grammys. Those were the words of the two announcers at the opening of the Grammy ceremony in Los Angeles. All the luminaries came out for this event.
Based on the response from the audience, we can safely say that CBS lost a good show. CBS rejected the broadcasting of the show after ratings failed. And Univision, the top Spanish channel, picked it up. Just like Soccer and most of its programming, the Grammy ceremony was in Spanish. It's true that the announcers said a few words in English, Portuguese and maybe Italian, but the whole ceremony was in Spanish. This is to show the rising importance of the Latino or Hispanic sector in the American music space.
It's been said that ratings may go up again with the broadcasting of the Grammy awards on the country's number one's Spanish-language network. On the red carpet (alfombra) were mingling artists from Brasil, Columbia, Mexico, Puerto Rico, Dominican Republic and all other Spanish-speaking countries.
Who Were the winners and losers?
Italian vocalist Laura Pausini beat favorite Bebe for female pop vocal album with her album "Escucha." Based on Bebe's lashing out and gum-chewing tirade which was blocked by Univision, Laura did not expect to win. She even admitted that she did not prepare anything because she thought Bebe was going to win. Felicitaciones at Laura! Bebe did not leave empty-handed. She got the award for best new artist.
Another favorite of mine is Columbian rocker Juanes who became the big winner of the night. He grabbed three awards for rock son, music video and rock solo vocal album. Juanes now has a grand total of 12 grammys. One of my favorite singer-songwriters is Alejandro Sanz. He appeared with Shakira on her video. Last night, his song "Tu no Tienes Alma" won song and record of the year awards.

Get the whole list of winners and losers in the 6th Annual Latin Grammys
Posted by Fashionista Shopping Analyst at 11:35 PM PST
Updated: Tuesday, 8 November 2005 7:17 AM PST