Upscale, Contemporary, Trendy, Chic Women's Clothing Boutique at Piazza del Fiore
Mood:
chatty
Topic: Californiapromdresses
Trendsetting women of the Central Valley of California have a new boutique they can go to. Located at Piazza del Fiore, BIATOU is a new women's clothing boutique where fashion-sensitive women can find the latest deals. Owner Elie Nikooe is a fashion enthusiast. She describes the atmosphere at the store as "being more of a chick trendy than a young attitude trendy."
It's worth noting that Piazza del Fiore Shopping center at Champlain Drive and Perrin Avenue is located in North Fresno which has seen some great investments. Ever since the RiverPark shopping Center was developed, more and and more local businesses want to have their address associated with that junction of North Blackstone.
BIATOU's target market is 20-to-50-year-old women. If demographics are taken into account, the area is full of this age group capable of keeping the register going. In North Fresno, the average household income.
In BIATOU, Mrs. Nikooe said that you will find a sample of what you are used to seeing in fashion-conscious areas such as Los Angeles, San Francisco and Las Vegas. Those are some of the places where she did her homework in addition to the experience gained from her past employment at Marshall's and other stores.
On Blackstone and Nees, Gottchalks whose headquarters is located near the Woodward Park is building the mother lode of all stores near Borders Books and Music and the local theaters. Accross the street from it, you will see Barnes and Noble, Elephant Bar and many other worthy stores. The Gottchalks store is going to be the highlight of that corner. Furthermore, Near national University, you will find 5 Park Place, an office building which features semireflective glass and views of the park and mountains. It received its Project of the Year award from Top Professionals Guide this year. Among other businesses that lease part of this building, we find Fresno Pacific University that is trying to be where the customers with money and mobility are. 5 Park Place is designed by developer DeWayne Zinkin and architect Ron Mazzeo. It's the first of many other projects which are going to be developed by Zinkin in the River Park Shopping Center.
If anything, this new corridor is the new business area of Fresno.
Chantelle's Africa T-shirt Bra: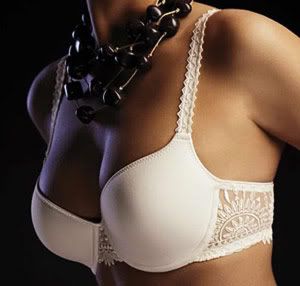 Posted by Fashionista Shopping Analyst at 12:01 AM PDT
Updated: Thursday, 27 October 2005 10:45 PM PDT