The Central Valley is a Construction Zone: From Fresno-Clovis, Kerman, Madera, Modesto, Los Banos to Bakersfield
Topic: Encroachment/Development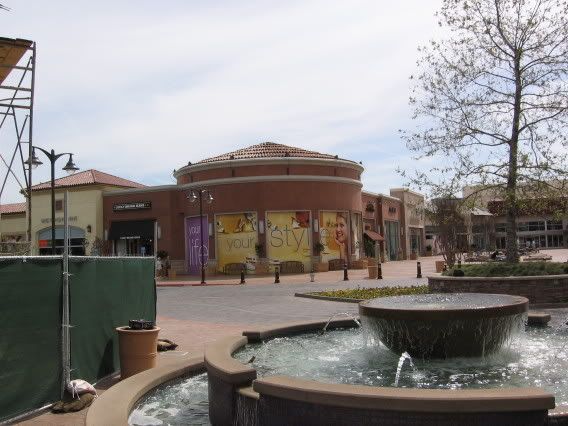 Before Fashion Fair, there was Manchester Mall. Then the RiverPark Shopping Center came on the Fresno-Clovis shopping scene. Well, there was the Fig Garden Village as the most exquisite place to spend money. It has the hip hangout shops and upscale boutiques. RiverPark has it all: Movie theaters, booksstores, mega stores inviting mega shopping and eateries. With the influx of a large population searching for a better return on their dollar and fleeing the pricey real estate of the Bay area and Orange County, there are people with enough disposable income to shop. So more businesses get created to meet the increasing needs of willing consumers. The major national retailers started to pay attention to the Fresno-Clovis shopping trends. It has been reported that the RiverPark Shopping Center makes so much money that most business owners want to locate their business there. The G or Gottschalks has already built its tribute to the shopping power of the Valley. The G is located right there. As soon as one shopping center is completed, new projects are announced. There is always something going on around here.
Here is a list of homebuilders who are trying to keep up with the high demand for residential and commercial real estate in the Valley. Where can you find the best homes and office spaces in the Valley?
Developed by Wathen-Castanos.com, Town & Country is described as the perfect combination of elegant living, beauty and the simple convenience of open space- inside and out. The reputed local homebuilder presents Town & Country as an ideal place for families craving spacious living in a luxurious home. This would be perfect for the Bay Area residents and Los Angeles homeowners who want to have a great residential living space. For $400,00, you can expect to have five single and two-story homes, up to seven bedrooms, five baths, three-care garage, oversided bonus or game rooms. The company wants to combine elegance and flexibility. This is not all folks, if you ca not afford the above homes, Wathen-Castanos has about 7 plans priced from $259,900 to 326,900 that you can choose from. You can find this new development at The European Grove. It is baptized as "Affordable Luxury in the New Fig Garden." Here is how Wathen-Castanos presents the new project at The European Grove. "Experience an Old-world feel... at the European Grove." If you are a first-time homeowner, you can check the company. If you are looking forward to downsizing to a smaller home, then the European Grove is perfect for you. Now, wait until you read about the location of the European Grove. It is located near schools, upscale shopping centers, quaint restaurants and a movie theater. This type of description only invites to grab the phone and call. You can visit one of the company's models from 11 am to 5 pm.

Posted by Fashionista Shopping Analyst at 3:58 PM EST
Updated: Sunday, 26 March 2006 4:11 PM EST